The value of a truly successful brand is its ability to create wealth using a desirable image and cementing it in the customers' mind. Looking to start up a franchise? The Lew Geffen Sotheby's International Realty brand, married with your unique skill and entrepreneurial spirit, will afford you the ability to realise profits and attract people that were previously out of your reach.
Owning a Lew Geffen Sotheby's International Realty franchise creates an unsurpassed platform for entrepreneurial growth and our top performing franchisees are proof that a premium brand opens many doors. Our average per capita selling price is the highest in the country placing us as the premier real estate brand in South Africa, and endorsing our mantra… selling masterpieces in every area.
Property
Franchising Opportunities
Our strategy is to align ourselves with exceptional South African real estate firms, creating a brokerage network that offers superior access to qualified people and unique South African properties. Each month we meet with firms that we have been identified as strong candidates to join and strengthen our network. Our growth is attributed to:
The brand; it has a cache of quality and luxury

We are a truly international real estate franchise

Our service delivery is based on the Lew Geffen Sotheby's International Realty formula
The added benefits and services offered to franchisees.
3 generations of real estate knowledge and expertise

Head office support and systems that are tried and tested for success

Digital national referral system

Cutting edge digital presence and strategy

Ongoing training and unique training innovations

Dedicated local and international marketing department

Award winning advertising campaigns (both local and international

Superbrand Status
Repetitive CNBC Five Star Gold Awards for 'Best Real Estate Agency', 'Best Website' and 'Best Real Estate Marketing'

'Best in Category' for Real Estate Franchisee Satisfaction Award - 8 years consecutively

'Most Prestigious Real Estate Company' as voted by the Luxury Brand Status Index Survey

Realogy Ethisphere Institute Award - 2015 World's Most Ethical Company

2014 Record year for Sotheby's International Realty® concluding R819 billion in sales worldwide.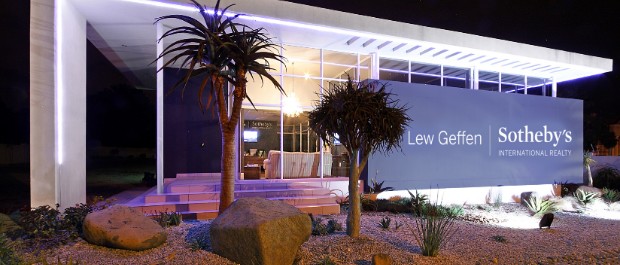 The brand offers a pool of incredible people with unmatched knowledge and experience in real estate.
Chris Cilliers, top performing agent turned franchisee Stellenbosch
The Lew Geffen Sotheby's International Realty brand has given us the necessary intellectual property to secure the lion's share of our market.
Peter & Sheena Maré, franchisee partnership Knysna

The trust and respect for the brand continuously offers us a competitive advantage in the realty business.
Claude McKirby, franchisee Southern Suburbs Cape Town

Being part of this brand has taught me the true value of business ethics and has instilled a culture that is unrivalled in the property game today
Grahame Diedericks, franchisee Midrand
Get Started Today
As a prospective franchisee, you will have many questions to ask about the franchise network; how it works, who the people are behind the business and what it will take to start up a franchise and the services that will be delivered. Our approach is simple, easy to understand and is underpinned by our own values of honesty, transparency and ethical behaviour. Each application to join the exclusive network will be treated on merit.
If you are interested in Lew Geffen Sotheby's International Realty franchising, please contact:

Yael Geffen
Chief Executive Officer
011 438 7300
yael@sothebysrealty.co.za